Non Surgical Breast Uplift ONLY £199 Per Session
The procedure at the non surgical group only takes about 30 minutes and it's all pain free. Results last for just a short time, about 2-3 weeks and patients can expect to see a excellent uplift after around 10 to 15 treatments (depending on your requirement). Our consultant points out that for women who have sagging breasts, the CACI non surgical breast uplift treatment won't provide a massive improvement. The best candidates are those who don't have very large breasts to begin with and whose breasts are fairly firm. CACI breast uplift treatment uses a hand-held device to strengthen the breast muscles. Electrical impulses are sent toning the breasts. The Caci breast uplift treatment device was designed by doctors and was previously used to treat sports and muscle injuries.
What Causes Saggy Breasts?
During the course of a woman's life, the breasts change in appearance and over time start to sag. Don't worry, this is NOT an uncommon condition. In fact, the clinical term for female breasts that sag is called 'breast ptosis.' There are many causes of breast ptosis including pregnancy, cigarette smoking, high body mass, gravity and the natural aging process. There are also different degrees of ptosis as shown in the illustration below. Fortunately, breast ptosis can easily be treated with breast lift surgery.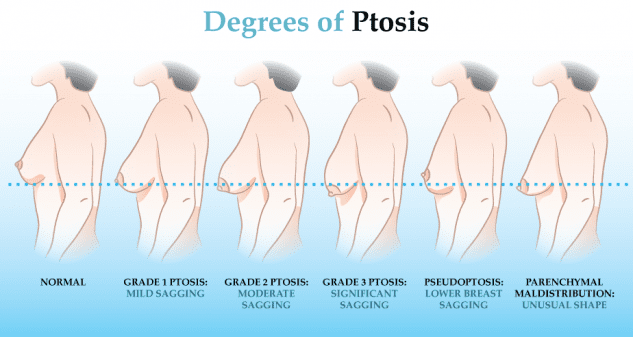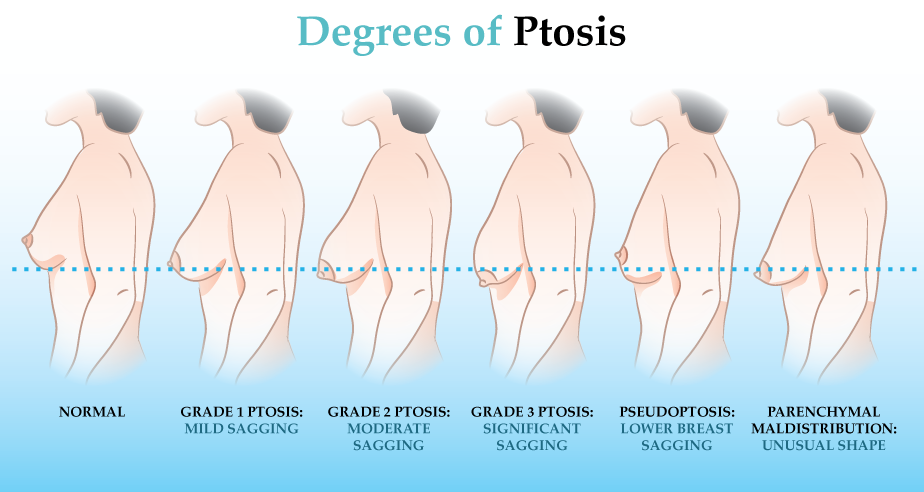 Are You a Candidate?
A good candidate for non surgical breast lift treatment is typically:
In good overall health.
Must be over 18 yrs old. Because breasts may continue growing up until the age of 18.
Has not got any major medical issues.
Has nipples and areolas that point too downwards.
Not planning or breastfeeding.
Has breasts that are sagging, but adequate in size.
Has breasts that lack firmness or substance.
As a general to determine if you could benefit from a CACI non surgical breast uplift, place a pen in the crease underneath your breast, if the sagging tissue holds the pen in place without using your hands, you could likely benefit from a CACI non surgical breast uplift.
You may NOT be a the ideal candidate if you are:
Unhealthy, or have major medical problems.
Pregnant, breastfeeding or planning to breastfeed in the near future.
Not realistic about what to expect. It's good to dream, but if you are imagining all types of unrealistic visions of how this will dramatically change your life, you may not be an ideal candidate.
Stressed.
RESULTS
The results are very clear with CACI Please note it can take up to 12 to 15 treatments per consecutive month to ensure the treatment is giving its fullest results as. The photos above how between 12 to 15 treatments.
All Prices above are quoted per session, However we do occasionally have package offers available please contact us directly or check daily deal sites for offers!!!   We normally offer deals BUT customers must return every month on the date appointment is booked or they will lose they monies or their vouchers will be made void UNLESS 24 hours notice has been given via email.
Call – 0844 3511123
Or
Email – info@thenonsurgicalgroup.co.uk